In a time when everyone is on the move and locations can't pass as an excuse for poor work productivity, remote access can be your best ally. This technology is increasingly becoming more common across industries, and it's easy to see why. However, if you still don't know a thing or two about remote access, then you're just at the right place. Today, we'll show you what remote access is and why it is important.
What is Remote Access?
Remote access is defined as the ability to access a computer, device, or a specific network from an offsite location. This can refer to employees who still have access to their office equipment such as computers and laptops even outside of office hours. Technical support organizations can also utilize remote access to connect to their clients' devices in order to resolve any technical problems.
Even simple device users can use remote access to accomplish day-to-day functions. Those who have multiple devices can use this technology to connect them remotely all at the same time. You can also provide technical help to your loved ones who live in a different city without needing to be at their exact locations.
How Does Remote Access Work?
Although there are plenty of remote access solutions in the market right now, almost all of them work in similar ways. However, for this article, we'll focus on remote access software only. If you're planning to get one, you need to download and install your remote access software first on both your local computer and remote computer before connecting them to each other remotely.
Once the software is installed, you can now open it on your local computer and connect it to the device that you're going to remote to. However, make sure that your remote computer isn't shut off so the connection isn't disrupted and disturbed. From there, you can now perform several tasks on the remote computer as if you're sitting in front of it. You can run apps, manage updates, and even perform administrative tasks.
How Important Remote Access is These Days?
According to Forbes, almost 50% of the US workforce is expected to be working remotely by the year 2027. So what does this mean to modern businesses? Well, if remote working is going to be the trend in the coming years, businesses that want to make it in the long run should start embracing remote access as soon as they can. This isn't only going to be beneficial to the employees themselves, but to companies and organizations as well.
Imagine not spending too much money on office essentials such as coffee, tables, toilet tissues and the like. If you're a business owner, this can save you a lot of money that you can use for more important resources in the future. Also, your employees can save money too as they don't need to spend much on travel expenses for their daily commute.
Investing in the right remote access solution for your business is relatively cheaper than maintaining a full-time office. Providing a work from home culture means reducing the costs you'll most likely spend on office equipment such as laptops, computers, desktops etc.
You can also address business emergencies more effectively using remote access. The thing about business demands is that they don't recognize if it's weekend or your day-off. While we dream of having a stress-free weekend with our families and an intimate movie night with friends, there are days when our work says otherwise. That's when we need remote access to come into play.
With remote access, you can still accomplish tasks even outside of office hours. Since you have access to your office computer and network, you can still acquire necessary files and data you need to finish any time-sensitive demands that get in your way. This ensures that work function is still running, and business opportunities are maintained.
For businesses that want to improve their attrition rate, remote access works like magic. Providing your employees the freedom to work anywhere they want to sounds like the best job to many. With this, they can maintain a work-life balance culture where they have more time to spend with themselves and their loved ones. This, in return, increases their work satisfaction rate and improves your company's turnover rate.
Freelancers who are always on the go but still need to accomplish projects can utilize remote access for their own benefit. By investing in the right remote access solution, they can access everything on their own computer from anywhere at any time.
Conclusion
Remote access is a great business and work solution in today's fast-paced environment. It's incredible to know that with this technology, locations and business emergencies no longer impede work productivity and business opportunities from coming. Now that you know how important remote access is, it's time for you to utilize it for your own good and benefit.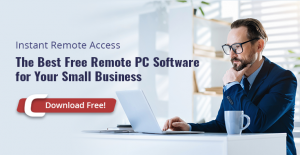 Related Resources: