Finding the best remote access solution for your business can be a confusing experience. Most of the claims and promises made by some remote access providers don't necessarily bring answers to your concerns and questions. In this article, we'll help you get off the wrong path by providing you with a list of things you need to look for in an effective remote access solution.
What is Remote Access?
Remote access is a technology that establishes a connection between two or more devices in different geographical locations. The aim of this technology is to eliminate the need for any physical intervention to get a task done. With remote access, users who are in an offsite location can still access a computer as if they are sitting in front of it. They can troubleshoot issues, use apps, and even access files.
Modern businesses use remote access to widen their connectivity and drive up work functions. This enables them to address business demands and maintain business opportunities no matter what the situation is. Companies also use remote access to collaborate with teams across various locations and conduct long-distance presentations to key clients.
More importantly, remote access promotes a 24/7 work culture among businesses. This allows employees to work from anywhere at any time in any given circumstances. It ensures that business emergencies are met and corporate demands are addressed properly.
Advantages of Remote Access
Provides Fast Solution – Organizations that use remote access can respond well in emergency situations that need immediate solutions. This ensures that business operations run smoothly while business targets are maintained.
Provides Work Flexibility – With remote access, employees can have the freedom to work from anywhere at any time. Whether they're working from home or on the road, remote access allows them to stay productive and enables them to complete their daily work routines.
Decreases Employee Attrition Rate – Working remotely allows your employees to spend more time with their families and loved ones. This helps them maintain a healthy balance between their personal lives and work which in return, boosts their work satisfaction rate.
Things to Consider in a Remote Access Solution
Security – Security should always be a priority when choosing a remote access solution. The sad reality with technology today is that with new functionalities come fresh, new threats. Unfortunately, remote access has become one of the most popular grounds for modern online hackings. That's why businesses that want to maintain a secure environment need to consider the security aspects of a remote access solution first.
It is important to note the history and credibility of the remote access tool you're keeping an eye on. "Has the security of this software ever been compromised?" Ask yourself questions like this and conduct an investigation on the remote access tool itself. This can be your first step into knowing whether it is secure enough for your business or not.
Simplicity – You, for sure, want to have the best remote access experience. To achieve that, your remote access solution should be easy to use, deploy, and configure. You don't want to have a messy looking remote access tool. That's why the one you should invest in has its tools packed in a neatly organized panel. This will ensure that everyone, including those who aren't tech-savvy, can use that remote access tool with ease and convenience.
Usability – You should be able to make the most out of your remote access solution. It should be able to serve a wide range of clients and departments within your organization at no extra cost. It should also provide you with connectivity from anywhere at any time. This means that no firewall restriction should come in your way whenever you establish a remote connection.
Accessibility – There's no point in purchasing a remote access solution when your employees can't access it from their home network. This will defeat the entire purpose of remote working which is one of the essential benefits of remote access. Choose the one that is going to allow users to connect to your corporate devices even outside of your company's network. This will ensure that employees can still stay productive no matter where they are.
Wrap-up
Investing in the right remote access solution can transform the way your business operates. It can be one of the easiest and most practical ways to maximize your own business efficiency and provide a better work experience for your employees. Give yourself the chance to add remote access to your own disposal. You'll be surprised by how beneficial it is to your business.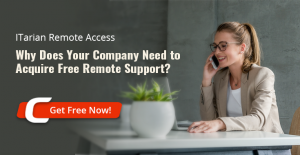 Related Resources: