Remote Monitoring Management (RMM), for the longest time, has helped MSPs to maintain and manage thousands of corporate networks and endpoints. However, having the option to extend remote control to your end-users using RMM can be even more beneficial to your role as an MSP. In this guide, we'll show you the benefits of extending remote control to your clients.
What is Remote Control?
Remote control is a technology that allows users to control a computing device at a distance. This tool enables them to do certain functionalities a person sitting in front of the remote computer can. From there, they can take over the mouse, keyboard, and the apps installed on the target device. The goal of remote control technology is to eliminate the need for the physical presence of the user. This means that certain computing tasks can be accomplished without any physical intervention.
Remote control is one functionality that most MSPs look after for an RMM software. This tool allows them to manage their client's endpoint devices with such ease and convenience. With remote control, they can monitor and manage a bunch of corporate networks, computers, and devices all at the same time. It makes them more productive and helps them accomplish their tasks a lot faster.
What is RMM?
Remote Monitoring Management or RMM is a type of software that allows managed IT service providers (MSPs) remotely monitor and manage their client's endpoints, corporate networks, and IT systems. RMM usually works when a certain monitoring tool is installed on the end user's endpoint device or computer. This tool gathers information about the overall condition of the remote devices and passes them to the MSPs.
When a certain problem is detected, the RMM software will automatically create an alert (or sometimes referred to as "ticket") and sends it to the MSPs, allowing them to take action and provide solution needed to solve the technical issue. These tickets are usually categorized depending on the severity of the problem. RMM is important to MSPs as it allows them to take actions immediately whenever a client-owned device or network is at risk.
Some of the main uses of RMM are as follows:
Gather information regarding the end user's device or network.
Actively updates the MSPs about the overall condition of their client's endpoint or network.
Creates tickets whenever a problem arises.
Monitor the overall condition of the client's device or network.
Manage multiple endpoints simultaneously
Extending Remote Control to End Users
You want your RMM software to have all the functionalities needed for your role as an MSP. Investing in an RMM software that charges you for every added option or feature is something you don't want to consider getting. If you're looking for an effective RMM software, then invest in one that has the ability to extend remote control to users.
Being able to extend remote control to your clients can help you in so many ways. If the end users want to exactly see how their endpoints and computers are being managed, most likely, you need to utilize remote control for this. On the other hand, you can use remote control to effectively manage tons of corporate devices all at the same time. If the client also wants to train other employees or IT people within his company, you can use this functionality by displaying the screen of your computer on their end. This function is particularly beneficial to big and distributed organizations that have branch offices in different cities, or to some extent, countries.
You also don't need to use Windows Remote Desktop Connection or RDC when you have the ability to extend remote control to end users. It's no secret that this Microsoft built-in feature can only be used on the same network, and if you want to use it outside of your local network, you may need to establish a Virtual Private Network or VPN. However, the complexity of adding a VPN using RDC can be challenging at times. It also doesn't support endpoints that have a multi-monitor setup.
Conclusion
As an MSP, you need to be consistent with the services you provide your clients with. Don't make it to the point where clients can only enjoy certain functionalities after a few months of being subscribed to your service. You definitely need to consider getting an RMM software that can provide you with all these services from the get-go. One of which is the ability to extend remote control to end users.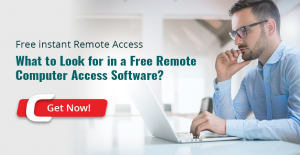 Related Resources: