Introduction to Remote Desktop Connection
Some companies allow their employees to work from home or from a distant location. The employees can access network resources through remote desktop connection software. This also introduces a lot of security threats to your company's network.
In this article, you'll know the benefits of making remote desktop sessions. You'll learn about various ways to secure your remote desktop software. You'll also learn some pro tips along the way in securing your remote connections. The operating system that is applicable throughout this article is Windows.
What Are The Benefits You Get From Remote Desktop Sessions?
A remote desktop app or software allows you to use a remote computer's resources from anywhere in the world. There are a lot of reasons why you do this. You might want to work from home because you're not feeling well. You might also be troubleshooting someone's remote PC because they can't do it themselves.
A lot of reasons you can think of but how about the benefits. We'll list some of the benefits that you get when doing a remote desktop session below:
The first benefit, of course, is to work outside away from the office. Nobody wants to work forever in the confinement of an office. The convenience you get from doing work outside of an office is like having a vacation.
You save a lot of money when you provide remote desktop access to your network resources. You don't have to buy that much hardware and software because people will be using their own devices.
Another benefit you get from using remote desktop software is data centralization. People can access all the data in one place. They don't need to install other software as well.
If people can access your network's resources in one place, then it's also easy to manage. You save money from hardware and software maintenance. You can troubleshoot problems with no effort at all as everything is in one place.
You can control and observe the devices on your network through remote administration. This is very convenient on the part of your IT personnel or technical support staff.
These are some of the benefits you get from using remote desktop software.
Best Ways To Secure Your Remote Desktop Software
If there are benefits to be proud of, there are also threats to defend from. There are a lot of advances in technology. Cybercriminals also improve their tactics. You must secure connections from both ends.
Here are the best ways on how you can secure your remote desktop software:
1. Always update your program or application. You can either do this by yourself or let your operating system do the patching. A patch consists of bug fixes and software upgrades. Make it a habit to keep your remote desktop software up to date.
2. Remote desktop software runs on both client and server. There's always an authentication process to verify each identity to the other. Using a strong password for authentication is a must. It should at least be eight characters long. Your password must consist of letters, numbers, and special characters. Limit the number of incorrect passwords when authenticating. This is to avoid brute force attacks from cracking your passwords.
3. Your Windows and router firewall should first allow remote desktop connections. A firewall protects your remote desktop software from various threats. It filters web traffic for any suspicious activity.
4. Create a limitation on the number of people who can use remote desktop software. Focus on giving access to technical support staff and field technicians. They need immediate access to network resources. As for the other employees, they should remain in the office. Limit the number of administrator accounts that use remote desktop connections. Too many admin accounts is a sign that an attacker is trying to compromise your network.
5. Imagine being able to troubleshoot your client's computer from a distant place. It's like being there and fixing the problem yourself. This scenario also presents a threat. What if someone takes over your remote desktop session? Make sure that you have strong encryption in place. A Virtual Private Network or VPN Access will help you in this scenario. This will create a secure tunnel on your existing network.
Conclusion
Using remote desktop software is very convenient both for employers and employees. It has several applications in real life. Protecting your remote desktop software from threats is very important.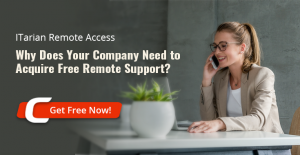 Related Resources: