Remote Control Security
Many businesses nowadays find the need to add remote control to their arsenals. It allows their employees to access and control files from anywhere regardless of what the situation is. However, Remote Access Security technology can still pose security concerns if not implemented effectively. In this guide, we'll show you how to address remote control security issues effectively.
What is Remote Control?
The Remote control is a technology that allows a user to control and access a computing device remotely. This technology is used when you need to access files and use apps on a computer from a physically separate location. One of the main goals of remote control is to get certain computing tasks done without the need for the user's physical intervention.
Remote Control Security
Modern businesses use this technology to maximize their efficiency. They also utilize remote control to allow their employees to stay productive even outside of office hours. Usually, this tool lets your workers address business emergencies in an instant. They don't necessarily have to be at their office when certain business demands pop up. With remote access security, they can instantly address those demands from their own home desktops with such ease and comfort.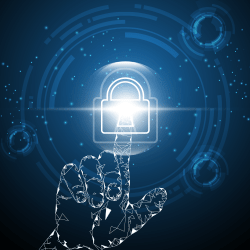 Tips for Remote Access Security
Remote control can sadly, disrupt your company's security and protection. The exchange of information from one network to another can open the doors for some security threats and attacks. The environment to which your devices are exposed can also play a major part in your company's security. Some of the top remote control security issues are as follows:
Flawed Endpoint Devices -

The devices your employees use to control their office desktops aren't necessarily secure and protected. They may not be at par with your company's security standards. This can ultimately affect your business's security and protection. These devices can potentially send different malware to your corporate network.

Less Secure Remote Control Software -

Some businesses compromise their security by investing in a less secure remote control software. This can put your company's security at stake as it doesn't have the ability to protect confidential data from being leaked and exposed.

Lack of Strict Guidelines -

Organizations that don't implement strict guidelines when using remote control are imposing security risks for their network's protection. Confidential files and data aren't heavily guarded against being remotely accessed and controlled.
Top Remote Control Security Tips
To address these issues effectively, try to consider practicing these top remote control security tips:
Ensure the Security of Your Employees' Endpoint Devices

The first remote control security tip on the list is ensuring the security of your employees' endpoint devices. Make sure that they follow your company's security standards to assure that they are protected from security threats such as worms, malware, and viruses. Also, require them to have their devices checked regularly so they are completely free of security issues and flaws.

Impose Strict Remote Control Guidelines

Implementing a strict guideline will help you minimize the risk of a security breach when using remote control technology. Make sure to specify who should only be allowed to access confidential files and information. This will prevent them from being leaked and exposed. Also, those employees who can't be at their office desk physically are the ones who should be allowed to use remote control. All access, if not needed, should be disabled temporarily.

Invest in a Secure Remote Control Software

Investing in a secure remote control software acts as your first line of defense against security risks and threats. When finding one, make sure that it has secure remote access features that can mitigate the risk of a potential security breach. Also, check if the software has some security issues in the past. This will give you a better look at how secure it is for your business.

One example of a secure They also utilizeITarian Remote Access. This software uses solid encryption technologies that prevent unwanted recordings of confidential interaction between a local computer and a remote device. It also authenticates and authorizes any remote connection made on your corporate network or device. Some of the key features of ITarian Remote Access are as follows:

Secure Remote Access
Session Confirmation
Multi Screen
Firewall
Customization tools
Auto Update

To download ITarian Remote Access, follow these steps accordingly:

Step 1: Go to the ITarian Remote Access website.
Step 2: Select GET NOW.
Step 3: Enter your email address and click GET NOW.
Step 4: Click Save File.
Step 5: Start the installation process by running the setup file on your default download location.
Step 6: Read and accept the license agreement.
Step 7: Click Install.
Step 8: Click Launch.
Conclusion
Fight now these remote control security issues using the tips indicated above. This can give you a much more secure environment away from security threats and attacks.
If you're interested in getting ITarian Remote Access, email us at support@itarian.com.
Does Remote Computer Access information is helpful?